Multicultural Teaching Course
Erasmus Plus educational training for the Inclusion of Immigrants and Refugees
Multicultural Course for Erasmus+ Teachers
Today multi-cultural classrooms are a reality, then it is key for teachers to be prepared to face it and take benefit from it by promoting empathy and the sense of belonging
#InclusiveEducation #MulticulturalCourse #Diversity
Multicultural Teaching Course description
Due to the recent rapidly expanding cultural diversity caused by the growing increase in the number of immigrants and refugees into Europe's education systems, school systems are facing strong challenges because of multicultural students entering or already present in their school system.
Also, the cultural background of the students is having a profound impact on their education and lives, and understanding it stands as a part of the teachers' current mission. Since multi-lingual and multi-cultural classrooms are a clear reality, then it is vital that teachers are prepared to face it and take benefit from it by promoting empathy and the sense of belonging to a same class / same school and to have common stories and especially common futures, analyzing how the barriers to a positive classroom environment work, identifying their own biases and realizing the power of multicultural education in the classroom/school.
The objective of this course is to resolve those challenges by increasing the teachers' awareness of cultural diversity, detecting the needs of the present educational systems when dealing with cultural diversity in schools, developing methods and teaching material for multicultural education programs, concerning the students' cultural background and adapting the lessons to these students' specific needs, gaining practical ideas on how to apply different communication strategies in different cross-cultural contexts, exploring solutions to the challenges of working with migrants and refugees, and developing a plan for integrating intercultural training into your institutions and classrooms.
Objectives of Multicultural Teaching Course for teachers
Deepening the concept of Multiculturality and principles of Multicultural Education
Refugee resettlement experience and specific needs of refugee students
Understanding cultural background of students
Identifying our own biases as teachers
Importance of inclusion of migrant & refugee children in EU societies
Strategies for responding to the trauma effects
Practical suggestions for your school to have a welcoming environment
Building a community within the classroom
Learning culturally responsive instructional strategies
Responsive classroom applications for intercultural communication
Explore different activities to promote empathy
Practical ways to deal with cultural differences in classroom
Connecting refugee students in school to the local community
Techniques for national language acquisition for migrants and refugees
Supplementary activities in and out of the school
Detecting current good practices and developments in Europe
Exchanging experiences and cross-cultural practices
Sharing ideas and materials between colleagues
Improving language and communication skills
Increasing international cooperation and intercultural awareness
Schedule for the Multicultural Teaching Course
DAY 1
09:00-10:00 Meeting – Getting to know each other
10:00-11:00 Introduction to the curriculum
11:30-13:30 Multicultural education theory
14:00-15:00 The principles of Multicultural Education
DAY 2
09:00-10:00 Multicultural Positive class / school environment
10:00-11:00 The characteristics for a multicultural school
11:30-13:30 The characteristics of a multicultural teacher
14:00-15:00 Rising empathy and inclusion between students
DAY 3
09:00-10:00 Multicultural instruction methods
10:00-11:00 Practical tools for implementation
11:30-13:30 Cultural mediator figure in schools
14:00-15:00 Methods for language acquisition
DAY 4
09:00-10:00 Practical ways to deal with cultural differences
10:00-11:00 Supplementary activities in and out of school
11:30-13:30 Developing your own action plan
14:00-15:00 Developing your own action plan
DAY 5
09:00-10:00 Presentation of activities and feedback
10:00-11:00 Discussion
11:30-13:30 Best practices in Europe
14:00-15:00 Evaluation of the course – Europass Mobility and Certificates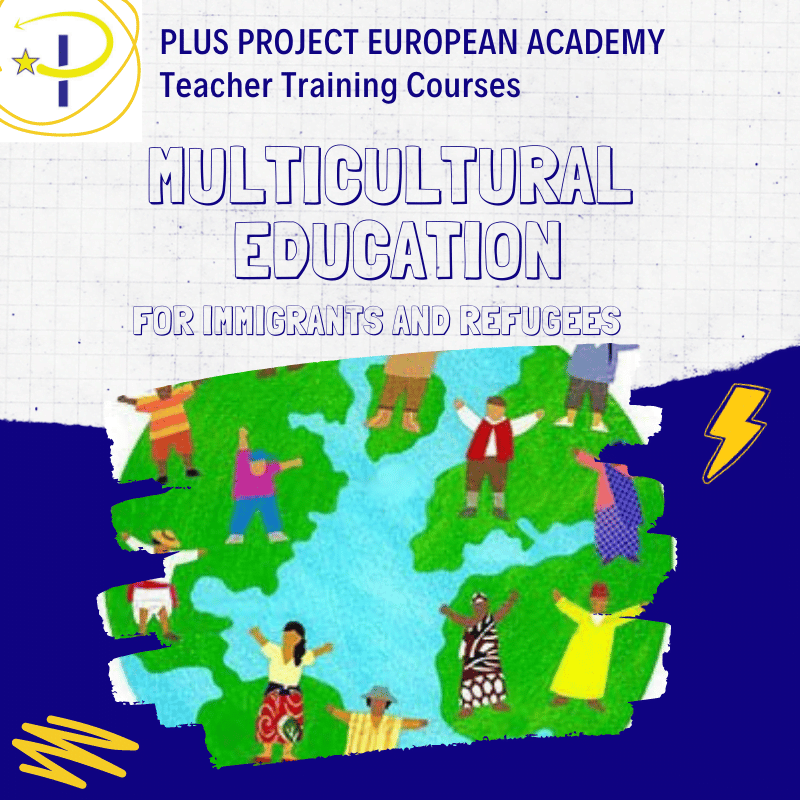 * Please contact us for 7, 10, 14, 21 days courses!
* Materials, certificates and cultural activities included!
*Other course days are available, please ask for specific dates.
* Our teacher training courses can fully be funded by Erasmus+ program. 
* Please contact us for all inclusive options or specific services depending on your needs and preferences.
Responsible PLUS PTOJECT
Porpuse Answer you query.
Legitimation Your consent.
Recipient NAMECHEAP.
Usage Rights  Access, correct and erase data.
Additional Information You can check the detailed information in the Privacy Policy.