Training course for teachers in Digital Literacy and E-Learning
ICT Teaching Course for teachers
In this technologically surrounded environment which young generations are quite into, ICT based learning can significantly contribute to a good quality of education and increases effectiveness of learning.
#TechnologyInEducation #InformationAndCommunication #ICTCourse
ICT Teaching Course description
Using Information and Communication Technology (ICT) in education is a critical process for educational institutions to catch up with the changing world with new technologies and digital media.
For those teachers who desire to increase their proficiency in  using ICT / Web 2.0 tools in their classrooms, our course will help you in: improving your digital skills and literacy; concerning about responsible use of technology and ethical issues. You will also learn hot to apply a practical methodology which brings technology into your classroom for all subjects, levels and diverse types of learners. In this course we will guide you and help you improve your teaching practices with the use of specific ICT tools, such as smart boards, webquest, e-learning platforms, photography, video making, social media, blogs, websites, coding, app building, etc. ICT can be used as a tool for reducing low achievement of your students and at the same time developing their critical thinking skills; and developing a concrete class plan and school policy on Integrating ICT tools into the curriculum.
Objectives of ICT Teaching Course for teachers
Acknowledging the concept of ICT and ICT based learning principles
Getting familiar with current internet trends
Suggesting practical ideas about how to incorporate ICT tools into your lessons
Making your lessons more engaging, innovative and productive with ICT tools
Overviewing various ICT / Web 0.2 tools
Getting familiar with e-learning platforms and how to use them
Designing a blog/website/app (*depending on group's common need)
Collecting ideas about how to use social media in education
Learning moral and ethical issues to be concerned about in ICT usage in classroom
Providing E-security
Preparing an ICT based lesson plan (considering specific subjects)
Academic and behavioural assessment & evaluation with ICT tools
Detecting current good practices and developments in Europe
Exchanging experiences and cross-cultural practices
Sharing ideas and materials between colleagues
Improving language and communication skills
Increasing international cooperation and intercultural awareness
Schedule for the ICT Teaching Course
DAY 1
09:00-10:00 Meeting – Getting to know each other
10:00-11:00 Introduction to the curriculum
11:30-13:30 The pedagogy of ICT based learning
14:00-15:00 Current internet trends
DAY 2
09:00-10:00 Moral and ethical issues and e-security
10:00-11:00 Innovation and productivity in classroom
11:30-13:30 Web 2.0 tools & platforms
14:00-15:00 Social media in education
DAY 3
09:00-10:00 Creating image and video (*may be replaced on request)
10:00-11:00 Designing a blog/website (*may be replaced on request)
11:30-13:30 Designing an app (*may be replaced on request)
14:00-15:00 Edmodo or Google Classroom (*may be replaced on request)
DAY 4
09:00-10:00 ICT based lesson plan (considering specific subjects)
10:00-11:00 Designing your own classroom activity with web 2.0 tools
11:30-13:30 Presentation of activities and feedback
14:00-15:00 Limitations of ICT based learning
DAY 5
09:00-10:00 ICT tools for academic evaluation
10:00-11:00 ICT tools for behavioural evaluation
11:30-13:30 Best practices in Europe
14:00-15:00 Evaluation of the course – Europass Mobility and Certificates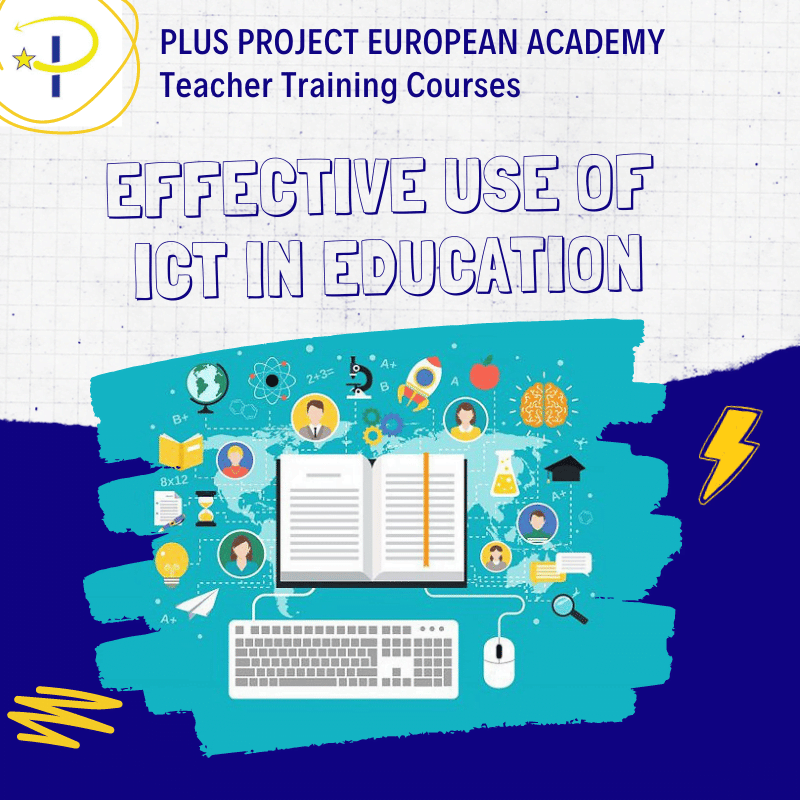 * Please contact us for 7, 10, 14, 21 days courses!
* Materials, certificates and cultural activities included!
*Other course days are available, please ask for specific dates.
* Our teacher training courses can fully be funded by Erasmus+ program. 
* Please contact us for all inclusive options or specific services depending on your needs and preferences.
Responsible PLUS PTOJECT
Porpuse Answer you query.
Legitimation Your consent.
Recipient NAMECHEAP.
Usage Rights  Access, correct and erase data.
Additional Information You can check the detailed information in the Privacy Policy.