Wellbeing in Schools course
Emotional education to learn/teach crucial life skills for a peaceful school environment
Wellbeing Courses for teachers
In the Wellbeing in Schools course you will gain emotional education tools to teach crucial life skills for a peaceful school environment.
Wellbeing Courses for teachers description
Wellbeing Courses for teachers: Education cannot lead to success if the basic physical, emotional and social needs of students are not covered. Promoting well-being at school provides a base to improve academic performance, behaviour, social integration and satisfaction of both the students and the teachers.
For this reason, it is important that teachers and education professionals have the necessary techniques and knowledge to care for themselves and their students emotionally, to educate to be and feel, to help the students to manage their emotions effectively and avoid being derailed, which all will drive them to continue their profession with illusion and motivation.
In this course, our teacher participants will improve their personal and professional wellbeing, learn to recognize, name and modulate emotions, facilitate self-awareness, gain  emotional problem-solving strategies, detect limiting and empowering beliefs to be able to work on them, improve themselves and their students' personal skills (resilience, self-esteem, motivation, etc.), social skills (cooperation, communication, cohesion, etc.) and learn to promote coexistence based on respect, equality and constructive interaction within the school environment.
Objectives of the Wellbeing Courses for teachers
To promote physical and mental health in schools
To wake up the inspiring teacher inside you and be a memorable teacher
To get your best version: connect, inspire, lead, innovate, engage your students, be an influencer
To identify the feelings, develop a positive self-image, take responsibility for the actions
To explore tools and methods to help students build their emotional wellbeing
To forge strong relationships and nurture a positive environment in the classroom
To understand the effects of stress and anxiety and discover ways to reduce stress in classroom
To promote non violent communication, curtail bullying and reduce dropout rates
To detect current good practices about wellbeing in schools
To exchange ideas, experiences, materials and cross-cultural practices between colleagues
To improve language and communication skills
To increase international cooperation and intercultural awareness
Schedule for the Wellbeing Courses for teachers
DAY 1
09:00-10:30 Getting to know each other – Team building – Challenges & Hopes
10:30-11:00 Course Introduction: Presentation of the program & course objectives
11:00-12:30 Goals of education / What does the world need? Emotional education definition
12:30-14:00 Wellbeing and happiness in schools
DAY 2
09:00-10:30 Emotions matter – Effects of stress and anxiety in learning
10:30-12:00 Ways to reduce stress in the classroom – Reducing bullying and dropout rates
12:00-14:00 Tools to help students build their emotional wellbeing – Working on emotions in the classroom
DAY 3
09:00-10:30 Improve language & communication skills – Nonviolent communication and peaceful environment
10:30-12:00 Emotional communication, Compassion – Positive & compassive self-talk
12:00-14:00 Wake up the inspiring teacher inside you – Reconnect with your vital purpose
DAY 4
09:00-10:30 Character strengths: Find out the bright side of personality
10:30-12:00
Character strengths survey – Talk about results
12:00-14:00 Strength's rain
DAY 5
09:00 – 11:00 Positive Psychology – How to promote physical and mental health in schools?
11:00-12:00 Action Plan – Presentations – Feedbacks
12:00-13:00 Best practices in Europe/World  – Inspirational tips
13:00-13:30 Course overview & Evaluation
13:30-14:00 Certificates Ceremony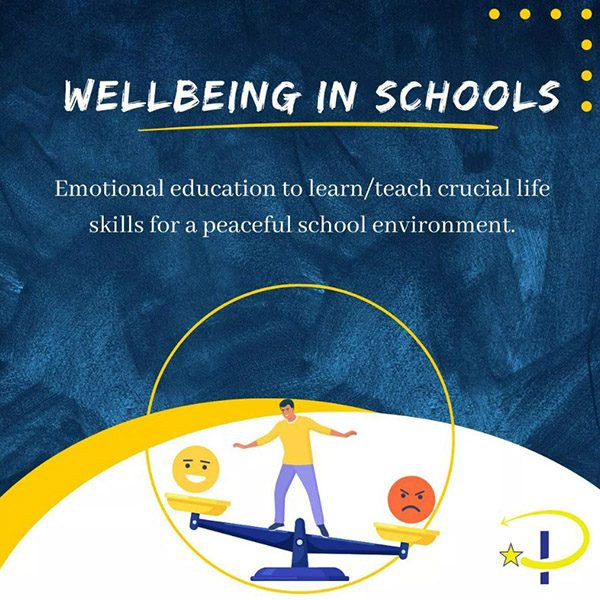 #Emotional Intelligence #Emotional Education #Coaching #PersonalStrengths #EmotionalIntelligence #Motivation #PositiveLanguage #Communication #Non-violentCommunication #PhysicalAndMentalHealth #Well-being #21stCenturySkills
* Please contact us for 7, 10, 14, 21 days courses!
* Materials, certificates and cultural activities included!
*Other course days are available, please ask for specific dates.
03/07/2023 – 07/07/2023
06/11/2023 – 10/12/2023
19/02/2024 – 23/02/2024
15/07/2024 – 19/07/2024
11/11/2024 – 15/11/2024
21/08/2023 – 25/08/2023
06/05/2024 – 10/05/2024
16/09/2024 – 20/09/2024
* Our teacher training courses can fully be funded by Erasmus+ program. 
* Please contact us for all inclusive options or specific services depending on your needs and preferences.
Don't miss this unique opportunity to improve your teaching skills and experience a new city at the same time!