Innovative Teaching Course
Make learning more interesting and engaging for everyone with our on-site course in Málaga
Innovative Teaching Course for teachers
In order to help the teachers implement innovative teaching approaches we focus on providing tools for the students to help the "learn to learn"
#LifelongLearning #DigitalSkills #FlippedClassroom #AlternativeTeachingMethods #AlternativeMaterials #4C's #Communication #Collaboration #Creative thinking #CriticalThinking #21stCenturySkills
Innovative Teaching Course description
Innovation should be something more than "new things teachers do in class, like using computers, doing debates, etc.", or replace a teacher with a younger one, or substitute guide texts with fabulous computers.
Innovating also means thinking critically, changing the participatory context for a better one, creating classroom or extracurricular environments, setting up a group learning environment as well as an individual one or improving the relationships between teachers and students.
We are wrong, therefore, when we think of innovation as the process of using ICTs, while we keep doing the same with those tools. We must introduce innovations using the achievements of Pedagogy and Psychology, together with the use of new technological tools. Innovating is not a simple process, it requires some time and a lot of perseverance to make it happen. In this training course our teacher participants who want to become innovative teachers will learn overcoming traditional pedagogical practices by proposing and putting into practice new suggestions for pedagogical problems.
This training will enable them to propose changes, based on providing tools to the students to help them in "learning to learn" by anticipating the relevance of learning, managing and facilitating learning, assessing competencies, creating environments for learning, designing new environments for learning, being part of inter and multidisciplinary groups, etc.
Objectives of Innovative Teaching Course for teachers
To foster the innovative – creative mindset of teachers
To improve flexibility of teachers to discover and use the teaching potential in their schools, towns and the world.
To promote teachers' and students' critical thinking and sense of adventure for a dynamic classroom approach
To help the students gain the ability to project learning processes and skills to cope with new challenges
To get to know most up-to-date innovative methods and how to adapt them into curricula
To adopt non formal education and lifelong learning as the fundamental approach for innovation
To integrate the technology and ICT tools  in an effective/creative way for more engaging classes
To detect current good practices about innovative teaching
To exchange ideas, experiences, materials and cross-cultural practices between colleagues
To improve language and communication skills
To increase international cooperation and intercultural awareness
Schedule for the Innovative Teaching Course
DAY 1
09:00-10:00 Meeting – Getting to know each other
10:00-11:00 Introduction to the course program
11:30-13:30 The concept of Innovative Teaching
14:00-15:00 What is (not) Innovative Teaching?
DAY 2
09:00-10:00 Innovative Teaching Approaches
10:00-11:00 Non-formal Learning-its applications and samples
11:30-13:30 Gamification-its applications and samples
14:00-15:00 Game-based Learning-its applications and samples
DAY 3
09:00-10:00 Innovative Teaching Approaches
10:00-11:00 Embodied learning-its applications and samples
11:30-13:30 Inquiry-based learning-its applications and samples
14:00-15:00 Outdoor learning-its applications and samples
DAY 4
09:00-10:00 Strategies, tools and good practices to apply in classroom
10:00-11:00 Discussion groups, and collaborative problem solving
11:30-13:30 Designing your own lesson plan
14:00-15:00 Presentation of activities and feedback
DAY 5
09:00-10:00 Best practices in Europe
10:00-11:00 Evaluation techniques suitable for Innovative Teaching
11:30-13:30 Course overview and evaluation
14:00-15:00 Europass Mobility and Participation Certificates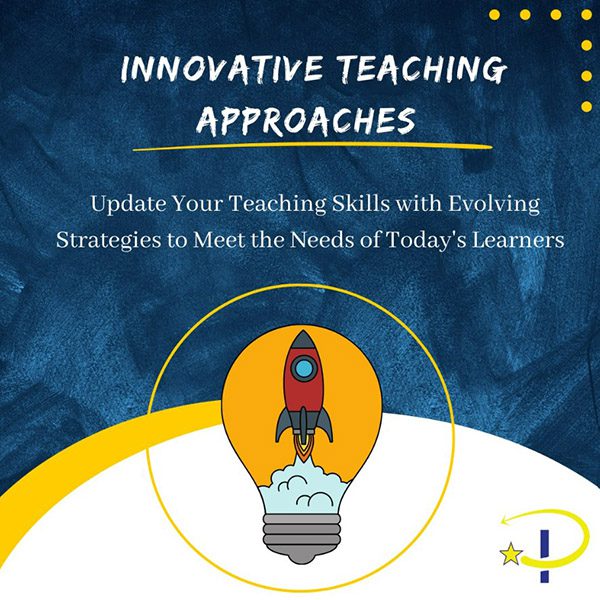 * Please contact us for 7, 10, 14, 21 days courses!
* Materials, certificates and cultural activities included!
*Other course days are available, please ask for specific dates.
23/01/2023 – 27/01/2023
13/11/2023 – 17/11/2023
22/01/2024 – 26/01/2024
08/07/2024 – 12/07/2024
04/11/2024 – 08/11/2024
28/08/2023 – 01/09/2023
13/05/2024 – 17/05/2024
23/09/2024 – 27/09/2024
* Our teacher training courses can fully be funded by Erasmus+ program. 
* Please contact us for all inclusive options or specific services depending on your needs and preferences.
Responsible PLUS PTOJECT
Porpuse Answer you query.
Legitimation Your consent.
Recipient NAMECHEAP.
Usage Rights  Access, correct and erase data.
Additional Information You can check the detailed information in the Privacy Policy.