Gamification in Education Course
Training course for Erasmus Plus teachers in the importance of learning through games
Gamification in Education Course for teachers
Games give a meaning to experiences, they provide a set of boundaries within a safe environment to explore and they provide motivation to succeed and reduce the sting of failure.
#CreatingNewInnovativeOrJointCurriculaOrCourses #NewLearningAndTeachingMethodsAndApproaches #InnovativeTeachingMethods #DigitalSkillsAndCompetences #Pbl #Motivation #ProblemSolving #Collaboration
Gamification in Education Course description
Bringing change to education is a mighty challenge. No matter how effective an educational strategy proves to be, there are numerous obstacles that stand in the way of its widespread adoption in classrooms.
Apart from convincing policymakers and educational leaders that games and video games can serve as powerful educational tools, also many educators are unsure of how to integrate games into their curriculum, whether they're teaching in preschool, primary schools, secondary schools or even universities. However, Gamification can be successfully used to improve both learning and teaching. Using gamification in the classroom helps engaging students by directly involving them in the learning process and makes learning and instruction fun and immersive. Games give a meaning to experiences, they provide a set of boundaries within a safe environment to explore, think, and try things out. They provide the motivation to succeed and reduce the sting of failure.
Games are an ideal learning environment, with their built-in permission to fail, encouragement of out-of-box thinking, and sense of control. After all, it specifically takes teachers out of their traditional role as the centre of the classroom and the source of all classroom knowledge. Whether it teaches new content or reviews previously learned information, game play provides a fun and engaging strategy for educators to incorporate into instructional practices. This practice-based course is for those teachers, instructors and professionals from all levels who are interested in applying gamified teaching in their classrooms.
In this course you will learn how to prepare a successful gamified learning experience for your students, design your own content and adequate educational games for your student's needs and level, techniques and tools to introduce gamification into your classroom with best practices and examples.
Objectives of Gamification in Education Course for teachers
To acknowledge gamification versus ludification
To get to know mechanics, techniques and dynamics of classic gamification
To learn the use of gamification in classroom
To effectively use pointing system, badges and competition
To integrate ICT into your gamified class
To create a safe, positive and fun environment for gamification
To learn different gamification examples for teaching
To design your own gamification project for classroom
To detect current good practices about inclusive education
To exchange ideas, experiences, materials and cross-cultural practices between colleagues
To improve language and communication skills
To increase international cooperation and intercultural awareness
Schedule for the Gamification in Education Course
DAY 1
09:00-10:00 Meeting – Getting to know each other
10:00-11:00 Introduction to the curriculum
11:30-13:30 Introduction to Gamification
14:00-15:00 Advantages and limitations of Gamification
DAY 2
09:00-10:00 Key points of an effective gamified class
10:00-11:00 Learning and teaching strategies for Gamification
11:30-13:30 Gamifying strategies to create related context
14:00-15:00 Choosing the right game for your gamified class
DAY 3
09:00-10:00 Key points to implement gamification successfully
10:00-11:00 Gamification and interdisciplinary approaches
11:30-13:30 How to integrate ICT into your gamified class
14:00-15:00 How to gamify your class
DAY 4
09:00-10:00 Preparing a gamified lesson plan
10:00-11:00 Designing your own gamified classroom activity
11:30-13:30 Designing your own gamified classroom activity
14:00-15:00 Presentation of activities and feedback
DAY 5
09:00-10:00 Best practices in Europe
10:00-11:00 Assessment and evaluation with Gamification
11:30-13:30 Course overview and evaluation
14:00-15:00 Europass Mobility and Participation Certificates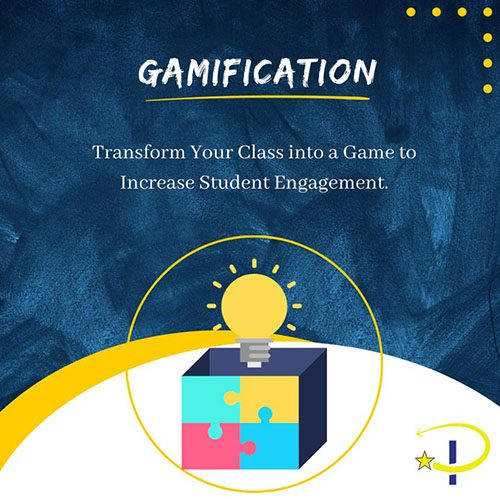 * Please contact us for 7, 10, 14, 21 days courses!
* Materials, certificates and cultural activities included!
*Other course days are available, please ask for specific dates.
13/02/2023 – 17/02/2023
17/07/2023 – 21/07/2023
06/11/2023 – 10/11/2023
12/02/2024 – 16/02/2024
29/07/2024 – 02/08/2024
25/11/2024 – 29/11/2024
* Our teacher training courses can fully be funded by Erasmus+ program. 
* Please contact us for all inclusive options or specific services depending on your needs and preferences.
Responsible PLUS PTOJECT
Porpuse Answer you query.
Legitimation Your consent.
Recipient NAMECHEAP.
Usage Rights  Access, correct and erase data.
Additional Information You can check the detailed information in the Privacy Policy.