Gamification in Education Course
Training course for Erasmus Plus teachers in the importance of learning through games
Gamification in Education Course for teachers
The Gamificacion in Education course is centered around the idea that games give a meaning to experiences, they provide a set of boundaries within a safe environment to explore and they provide motivation to succeed and reduce the sting of failure.
Gamification in Education Course description
The Gamification course goal is to learn techniques that transfer the mechanics of games to the educational field in order to achieve better results, either to better gain some knowledge, improve some skills, or reward specific actions, among many other objectives. Recently it is a very preferred methodology in education, since it increases the attractiveness of learning processes, innovation, fun, productivity, the ability to retain concepts and the acquisition of skills. In this course you will learn the elements of gamification, the types of gamification, the gamification tools in education, applying gamification in the classroom, examples of gamification in education and much more. After this course, our participants will be able to  change the dynamics of their classroom by replacing the traditional role of the teacher, by creating an ideal learning environment through games that meet the learners' needs.
Objectives of Gamification in Education Course for teachers
To acknowledge gamification versus ludification
To get to know mechanics, techniques and dynamics of classic gamification
To learn the use of gamification in classroom
To effectively use pointing system, badges and competition
To integrate ICT into your gamified class
To create a safe, positive and fun environment for gamification
To learn different gamification examples for teaching
To design your own gamification project for classroom
To detect current good practices about inclusive education
To exchange ideas, experiences, materials and cross-cultural practices between colleagues
To improve language and communication skills
To increase international cooperation and intercultural awareness
Schedule for the Gamification in Education Course
DAY 1
09:00-10:30 – Getting to know each other – Team building – Challenges & Hopes
10:30-11:00 – Course Introduction: Presentation of the program & course objectives
11:00 – 12:00 – Definition, principles, goals, benefits and challenges of gamification
12:00 – 13:00 Gamification vs Ludification vs Game Based Learning vs Gaming – what are the differences?
13:00 – 14:00 First steps toward gamification (real – world gamification examples)
DAY 2 – Game theory
9:00 – 10:30 The pyramid of Elements of Gamification (Werbach&Hunter)
10:30 – 11:00 Game theory in lesson plan design
11:00 – 13:30 Group workshop: Play, score, learn (designing the game)
13:30 – 14:00 How does game theory relate to psychology?
DAY 3 – Fun theory
9:00 – 10:00 A theory of fun for Game Design (Koster, Raph)
10:00 – 11:00 The fun theory in real life
11:00 – 14:00 Group workshop:  Gamification of education using computer games (best gamification tools)
DAY 4 – Designing a Gamified Classroom
9:00 – 10:30 How to gamify the lesson plan? (gamification planning template)
10:30 – 11:30 Gamified lesson plan – tools, tips and resources for teachers
10:00 – 13:00 Preparing own gamified lesson plans
13:00 – 14:00 Presentation of the lesson plans (debate, feedback)
DAY 5
9:00 – 10:30 Evaluating classroom gamification
10:30 – 11:30 Trends on educational gamification
11:30 – 12:30 Best practices in Europe
12:30 – 13:30 Course overview
13:30 – 14:00 Evaluation of the course – Europass Mobility  and Certificates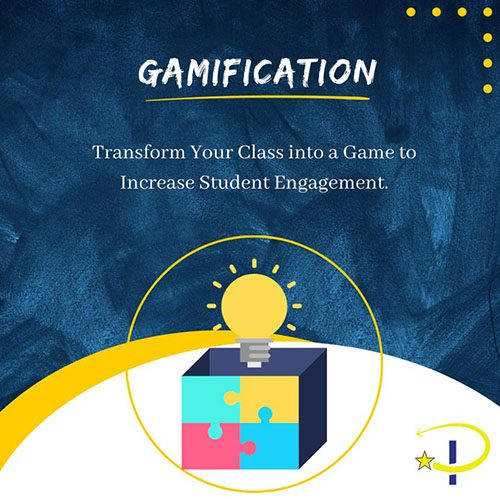 #CreatingNewInnovativeOrJointCurriculaOrCourses #NewLearningAndTeachingMethodsAndApproaches #InnovativeTeachingMethods #DigitalSkillsAndCompetences #Pbl #Motivation #ProblemSolving #Collaboration
* Please contact us for 7, 10, 14, 21 days courses!
* Materials, certificates and cultural activities included!
*Other course days are available, please ask for specific dates.
17/07/2023 – 21/07/2023
06/11/2023 – 10/11/2023
12/02/2024 – 16/02/2024
29/07/2024 – 02/08/2024
25/11/2024 – 29/11/2024
* Our teacher training courses can fully be funded by Erasmus+ program. 
* Please contact us for all inclusive options or specific services depending on your needs and preferences.
Don't miss this unique opportunity to improve your teaching skills and experience a new city at the same time!