Learning in a Real World Context – Training Course for Erasmus Plus Teachers
Outdoor Learning Course for teachers
The objective of this outdoor learning training is to offer a foundation and an overview of what outdoor education can be able to provide to all students.
#MuseumEducation #Game-basedLearning #Gamification #ForestSchools #InnovativeTeachingMethods #EnvironmentalEducation #PBL #CreativeThinking #EnvironmentAndClimateChange #Social/environmentalResponsibilityOfEducationalInstitutions #GreenTransportAndMobility #GreenSkills
Outdoor Learning Course description
Outdoor Learning usually refers to a learning process that takes place outdoors. Outdoor Learning programs sometimes involve living in residential places or traveling to places with wild nature.
These experiences are based on students participating in a variety of adventurous challenges and outdoor activities such as hiking, climbing, canoeing, rope courses and group games. When learning is carried out outdoors, teachers comment on its great influence are such as children's behaviour improves, the whole class is eager to learn, and those students who are inhibited by the curriculum often develop and progress in the outdoor environment.
Playful activities are not only a fundamental element for the enjoyment of childhood, but they also teach children crucial life skills such as problem solving, teamwork and creativity. The objective of this course is to offer a foundation and an overview of what outdoor education contributes. It deepens in the benefit of a regular and deep contact with nature, beyond occasional or seasonal visits, so that people who accompany children and young people such as educators, teachers and therapists, can apply the resources and the principles discussed here in our daily work.
This course is also for those who are in charge of leading their school's outdoor learning and for those who want to apply outdoor learning through environment and nature by modifying the culture, vision and values of their school.
Objectives of Outdoor Learning Course for teachers
To gain practical skills to teach outdoors (routines, games, resources)
To enrich teaching/learning process with cross curricular activities in different outdoor environments (Museum, monument, forest, beach, bazaar, park, etc)
To encourage creativity through different types of expression in outdoor context
To notice the wide variety of possibilities offered by nature as a classroom
To promote the development of the senses
To develop healthy lifestyles and habits to promote wellbeing of students
To create positive attitudes towards the environment, fauna and flora
To reinforce the bond of students with nature
To take action to keep our environment strong and sustainable
To learn about Forest Schools and its applications
To detect current good practices about Outdoor Education
To exchange ideas, experiences, materials and cross-cultural practices between colleagues
To improve language and communication skills
To increase international cooperation and intercultural awareness
Schedule for the Outdoor Learning Course
DAY 1
09:00-10:00 Meeting – Getting to know each other
10:00-11:00 Introduction to the curriculum
11:30-13:30 Introduction to Outdoor Education
14:00-15:00 Theoretical base
DAY 2
09:00-10:00 Nature as a classroom
10:00-11:00 The role of nature in the learning, development and well-being
11:30-13:30 A collaborative, safe and supportive environment to learn
14:00-15:00 Outdoor learning risk assessment and benefits
DAY 3
09:00-10:00 How to use nature as a setting and tool in schools
10:00-11:00 Strategies and tools to bring nature closer to the different fields
11:30-13:30 Practical skills to teach outdoor
14:00-15:00 Sample games, resources, practicalities
DAY 4
09:00-10:00 Teaching Literacy with Natural Elements
10:00-11:00 Teaching mathematics with Natural Elements
11:30-13:30 Adopting your subject to Outdoor Learning
14:00-15:00 Communication and Authority in outdoor learningç
DAY 5
09:00-10:00 Real sessions for participant teachers at the park or beach
10:00-11:00 Evaluation of activities and feedback
11:30-13:30 Best practices in Europe
14:00-15:00 Evaluation of the course – Europass Mobility and Certificates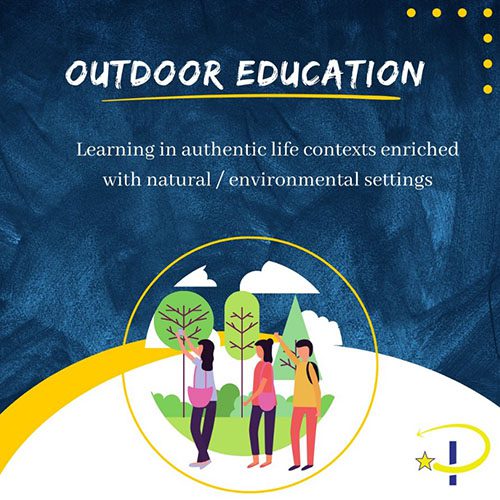 * Please contact us for 7, 10, 14, 21 days courses!
* Materials, certificates and cultural activities included!
*Other course days are available, please ask for specific dates.
06/03/2023 – 10/03/2023
31/07/2023 – 04/08/2023
16/10/2023 – 20/10/2023
11/03/2024 – 15/03/2024
24/06/2024 – 28/06/2024
21/10/2024 – 25/10/2024
27/05/2024 – 31/05/2024
09/09/2024 – 13/09/2024
* Our teacher training courses can fully be funded by Erasmus+ program. 
* Please contact us for all inclusive options or specific services depending on your needs and preferences.
Responsible PLUS PTOJECT
Porpuse Answer you query.
Legitimation Your consent.
Recipient NAMECHEAP.
Usage Rights  Access, correct and erase data.
Additional Information You can check the detailed information in the Privacy Policy.