Would you like to be an expert at STEAM teaching and make technical lessons more enjoyable for everyone? Join us!
STEAM TRAINING FOR ERASMUS+ for teachers
This teacher training course includes a blended program that will offer you different ways of teaching subjects in a holistic way, as an alternative to the traditional lesson structures.
STEAM Courses for teachers DESCRIPTION
Those who learned mathematics or science through a traditional method will surely find this scene familiar: the teacher arrives in the classroom, and they begin with a theoretical explanation, teach ways to solve exercises on the blackboard, which are then copied by the students, and finally, if time allows, they help students to do some more exercises and we are done!
Yes, it sounds boring, and for some even frustrating! Yet, unfortunately, this scene is not part of the past, because we know that it still repeats nowadays in many classrooms, in many countries. A fact that shows how valid this traditional way of teaching technical classes in OECD countries is the scores that are still low in PISA, a study which evaluates the application of mathematics/science in a given context. However, it is important to note that those students are almost never taught to put their knowledge into practice and, instead, they continue to work with mathematics in an abstract and theoretical way. Another common issue which is directly related to low mathematics / science achievement is students' negative attitude towards those subjects due to traditional teaching techniques. Therefore, this teacher training course includes a blended program, thanks to which you will learn different ways of mathematics/science teaching, as an alternative to the above-mentioned traditional type.
Our STEAM Courses for teachers includes ICT in maths and sciences, STEM applications, project-based case studies, ethnomathematics (teaching math by relating it with students' culture), maths / science in real life and maths & science for fun activities that are going to inspire the teachers who are willing to innovate their classes.
OBJECTIVES of the stem training course for teachers
To gain a comprehensive understanding of the STEAM concept
To employ project-based learning that crosses each of the five disciplines
To fosters an inclusive learning environment in which all students are able to engage and contribute
To stimulate both sides of students' brain at once with exercises through an interdisciplinary approach
To develop students' critical thinking and problem solving skills by exposing them to these disciplines holistically
To introduce innovative teaching methodologies into lesson plans
To analyse student needs and background to create engaging STEAM content
To collect STEAM teaching resources
To detect current good educational practices about STEAM
To exchange ideas, experiences, materials and cross-cultural practices between colleagues
To improve language and communication skills
To increase international cooperation and intercultural awareness
SCHEDULE for the STEAM Courses for teachers
DAY 1
09:00-10:30 Getting to know each other – Team building – Challenges & Hopes
10:30-11:00 Course Introduction: Presentation of the program & course objectives
11:00-11:30 STE(A)M and its principles
11:30-12:30 Taking a Project-Based Approach to STEAM learning
12:30-13:30 Innovative techniques for interdisciplinary teaching
13:30-14:00 Analyzing the needs and interests of our students to create related educational content
DAY 2 – Hands – on Learning
09:00-10:00  What is inquiry – based STEAM education and why is it important
10:00-11:00 How do hands – on activities improve the STEAM learning experience
11:00-12:00 Introduction to Lego BricQ Motion products – 5 E's of Inquiry – Based Learning (Engage, Explore, Explain, Elaborate, Evaluate)
11:00-14:00 – Training Course: Lego BricQ Motion Essential, Lego Bricq Motion Prime
DAY 3 – Methods to introduce STE(A)M into classroom – STEAM Robotics Education
09:00-10:00 Educational Robotics – Definition, Advantages,  learning objectives, planning courses
10:00-10:30 Why robotics should be included in STEAM Education
10:30-11:00 Resources to use in the classroom
11:00-14:00 Active workshop for Educational Robotics – Lego Education products , Makeblock Products, microBit, HaloCode, Arduino Uno (depending on the level of participants)
DAY 4 – Innovative Educational Projects– STEAM Experiments
09:00-10:00 Experiments in education (benefits, limitation) / Stem laboratory resources
10:00-11:00 Content creating & creative ideas
11:00-12:00 Teaching STEAM on a limited budget
12:00-14:00 Active workshop for STEAM Experiments – DIY projects
DAY 5 – Designing your own classroom activity for STE(A)M – STE(A)M oriented class plan preparation
9:00-10:00 Current trends in STEM education – Best practices in the world
10:00-11:00 STEAM lesson plan examples
11:00-13:00 Action Plan – Presentations / Feedback – STE(A)M oriented instruction evaluation
13:00-13:30 General overview & Evaluation of the course
13:30-14:00 Certificates Ceremony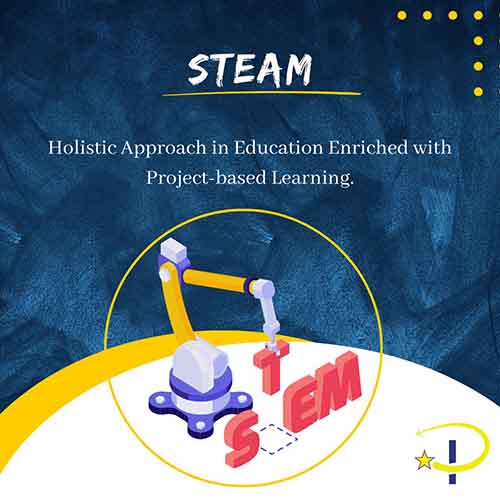 #STEM #STEAM #InnovativeTeaching Methods #DigitalSkillsAndCompetences #DigitalContent #TechnologiesAndPractices #PBL #CriticalThinking #CreativeThinking #AnalyticalThinking #InterdisciplinaryApproach #21stCenturySkills
* Please contact us for 7, 10, 14, 21 days courses!
* Materials, certificates and cultural activities included!
*Other course days are available, please ask for specific dates.
03/07/2023 – 07/07/2023
23/10/2023 – 27/10/2023
26/02/2024 – 01/03/2024
12/08/2024 – 16/08/2024
09/12/2024 – 13/12/2024
* Our teacher training courses can fully be funded by Erasmus+ program. 
* Please contact us for all inclusive options or specific services depending on your needs and preferences.
Don't miss this unique opportunity to improve your teaching skills and experience a new city at the same time!