Would you like to be an expert at STEAM teaching and make technical lessons more enjoyable for everyone? Join us!
STEAM TRAINING FOR ERASMUS+ for teachers
This teacher training course includes a blended program that will offer you different ways of teaching subjects in a holistic way, as an alternative to the traditional lesson structures.
STEAM Courses for teachers DESCRIPTION
Recent research has illuminated a compelling reality: a staggering 85% of the professions expected to emerge by 2030 are yet to be invented, and the majority of them will be closely intertwined with STEAM disciplines. Beyond merely encouraging students to participate in reshaping the world, STEAM education adds a layer of personalization, excitement, creativity, and innovation to the learning process.
STEAM represents a comprehensive curriculum that integrates Science, Technology, Engineering, Arts, and Mathematics, uniting these diverse fields through a practical, interdisciplinary approach to education. In line with this approach, our course not only delves into the theoretical underpinnings of STEAM but also equips educators with the tools and strategies to effectively integrate STEAM principles into their classrooms.
Here's a glimpse of what you'll explore in this course:
Holistic Learning: Experience the transformational power of interdisciplinary education, where students are challenged to think beyond traditional subject boundaries.
Real-World Applications: Discover a treasure trove of teaching resources and activities grounded in real-world contexts, ensuring that learning is meaningful and relevant.
Technology Integration: Leverage the latest Information and Communication Technologies (ICT) to enhance STEAM education and prepare students for the tech-driven world.
Project-Based Learning: Embrace project-based learning approaches that empower students to actively engage, inquire, and collaborate in solving complex problems.
By the end of this course, you'll be well-prepared to inspire your students to take thoughtful risks, persevere through problem-solving, embark on inquiry-based journeys, value teamwork, and actively participate in the creative process. These skills are the cornerstone of tomorrow's innovators, leaders, and mentors.
Join us on this transformative journey as we equip you to lead the way in nurturing the next generation of STEAM-ready learners and innovators.
OBJECTIVES of the stem training course for teachers
Gain a comprehensive understanding of the STEAM concept.
Implement project-based learning that transcends each of the five disciplines within STEAM.
Develop the ability to create STEAM-focused lesson plans and curriculums.
Adapt STEAM principles to any subject, aligning with UN 2023 Objectives.
Cultivate an inclusive learning environment that engages and includes all students.
Foster the growth of students' critical thinking and problem-solving skills through a holistic approach to these disciplines.
Analyze student needs and backgrounds to craft engaging STEAM content tailored to individual classrooms.
Identify and apply current best practices in STEAM education.
Facilitate knowledge exchange and cross-cultural collaboration among colleagues.
Improve language and communication skills through interaction.
Increase international cooperation and intercultural awareness.
SCHEDULE for the STEAM Courses for teachers
DAY 1
09:00-10:00 Getting to know each other & Course introduction
10:00-11:30 What is STEAM? Why is it important?
11:30-12:00 Break time
12:00-13:00 How to apply STEAM in the classroom? Activity "plasticine target"
13:30-14:00 ENGINEERING: Difference between simple machines and compound machines
DAY 2
09:00-10:00 Technology and Engineering: Activity "What is a robot?"
10:00-11:30 Building a Smart City with different elements by using LEGO NEZHA KIT
11:30-12:00 Break time
12:00-14:00 Building a Smart City with EDISON Robot
DAY 3
09:00-10:00 Technology and Mathematics: Activity "Logical-Mathematical Thinking"
10:00-11:30 Programming arcade/platform video game with MakeCode
11:30-12:00 Break time
12:00-13:00 Video game programming with mathematical concepts
13:00-14:00 Virtual Reality with Cospaces app
DAY 4
09:00-10:00 Dynamic art and science
10:00-11:30 Scientific experiments with everyday materials
11:30-12:00 Break Time
12:00-13:30 Artistic activity workshop
13:30-14:00 Distribution of project themes
DAY 5
9:00-09:30 STEAM overview and best practices
10:00-11:30 Preparations of the projects (Action Plan)
11:30-12:00 Break Time
12:00-13:00 Presentation of the Projects
13:00-14:00 Evaluation of the course & Certificates Ceremony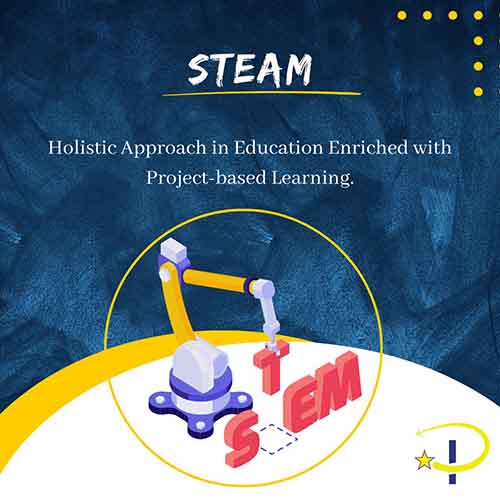 #STEM #STEAM #InnovativeTeaching Methods #DigitalSkillsAndCompetences #DigitalContent #TechnologiesAndPractices #PBL #CriticalThinking #CreativeThinking #AnalyticalThinking #InterdisciplinaryApproach #21stCenturySkills
* Please contact us for 7, 10, 14, 21 days courses!
* Materials, certificates and cultural activities included!
*Other course days are available, please ask for specific dates.
26/02/2024 – 01/03/2024 – confirmed
27/05/2024 – 31/05/2024
12/08/2024 – 16/08/2024 – confirmed
07/10/2024 – 11/10/2024
09/12/2024 – 13/12/2024 – confirmed
* Our teacher training courses can fully be funded by Erasmus+ program. 
* Please contact us for all inclusive options or specific services depending on your needs and preferences.
Don't miss this unique opportunity to improve your teaching skills and experience a new city at the same time!