Coding and Robotics in Education Course
Update your teaching methods to match the fast development of today's world
Coding and Robotics in Education Course for teachers
Coding and Robotics is an innovative way to integrate with our modern classroom, to practice STEAM terms and get in touch with the technological future
Coding and Robotics in Education Course description
In today's fast-paced world, technology is the driving force behind much of our daily lives. Coding and robotics have become essential skills, and the sooner our students embark on this educational journey, the better prepared they will be for the ever-evolving future and the demands of tomorrow's job market.
This course is carefully crafted for teachers across all subjects, catering to both those who are new to the world of coding and robotics and those who are already proficient but seek fresh insights, ideas, and resources to enhance their teaching practices.
Here's an overview of what you can expect to gain from this course:
Hands-On Learning with Robots: Our workshops are designed to be immersive and experiential. You'll have the opportunity to work closely with various types of robots. This hands-on approach ensures that you not only understand the theory but also gain practical skills.
Diverse Robot Exposure: Explore different robot types, allowing you to discover the wide range of technologies available for educational purposes.
Theory and Support: We provide valuable insights and guidance on the theory behind coding and robotics, ensuring you have a strong foundation to pass on to your students.
Teamwork and Social Skills: Learn how to foster teamwork and social skill development in your classroom through engaging coding and robotics activities.
Critical Thinking and Creativity: Understand how writing code and maneuvering robots can foster critical and creative thinking skills in your students.
Problem-Solving and Collaboration: Discover how overcoming challenges in the world of coding and robotics can teach your students valuable problem-solving and collaboration skills.
By the end of this course, you will not only be well-versed in the world of coding and robotics but also equipped to enrich your classroom experiences with these exciting technologies.
Join us on this journey to empower your students with the skills they need to thrive in an increasingly digital world.
Objectives of Coding and Robotics in Education Course for teachers
Acquire programming knowledge and techniques with a real-world approach using robots.
Gain practical, hands-on experience with educational robots.
Design robots tailored for specific educational activities and scenarios.
Cultivate algorithmic thinking skills in students through robotics and coding.
Strengthen critical, logical, and computational thinking abilities.
Apply digital skills to solve everyday challenges and problems.
Transform the student learning experience and nurture a growth mindset in the classroom.
Program and code using cost-effective materials and resources.
Identify current best practices in Coding and Robotics education.
Facilitate knowledge exchange and cross-cultural collaboration among colleagues.
Improve language and communication skills through interaction.
Increase international cooperation and intercultural awareness.
Schedule for the Coding and Robotics in Education Course
Day 1
09:00-10:00 Getting to know each other & Course introduction
10:00-11:00 Steam, Technology, Project Based Learning
11:00-11:30 Break time
11:30-14:00 Programming Scratch & La hora del código
DAY 2
09:00-11:00 Programming Makecode
11:00-11:30 Break time
11:30-14:00 Programming Mobile APPs /Phyton
DAY 3
09:00-11:00 Robotics Edison / Lego
11:00-11:30 Break time
11:30-14:00 Robotics Elecfreaks kits
DAY 4
09:00-11:00 3D Design
11:00-11:30 Break time
11:30-14:00 Virtual Reality Cospaces
DAY 5
9:00-09:30 STEAM overview and best practices
10:00-11:30 Preparations of the projects (Action Plan)
11:30-12:00 Break Time
12:00-13:00 Presentation of the Projects
13:00-14:00 Evaluation of the course & Certificates Ceremony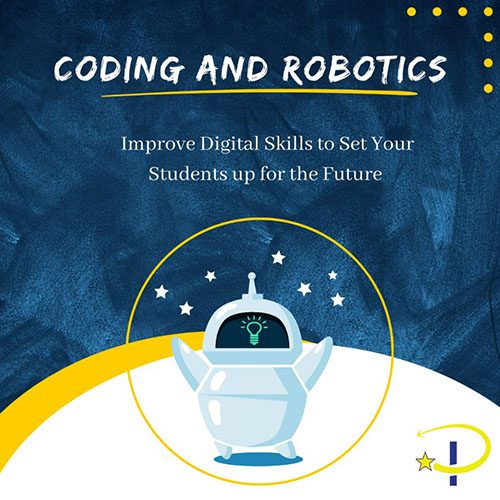 #DigitalSkillsAndCompetences #DigitalContentTechnologiesAndPractices #STEAM #PBL #AnalyticalThinking #CriticalThinking #ProblemSolving #Collaboration #InnovativeTeachingMethods #21stCenturySkills
* Please contact us for 7, 10, 14, 21 days courses!
* Materials, certificates and cultural activities included!
*Other course days are available, please ask for specific dates.
29/01/2024 – 02/02/2024 – confirmed
22/04/2024 – 26/04/2024
01/07/2024 – 05/07/2024 – confirmed
28/10/2024 – 01/11/2024 – confirmed
* Our teacher training courses can fully be funded by Erasmus+ program. 
* Please contact us for all inclusive options or specific services depending on your needs and preferences.
Don't miss this unique opportunity to improve your teaching skills and experience a new city at the same time!