Stop Bullying and Cyberbullying Course
For a Safe, Secure and Peaceful School Environment – Preventing bullying and cyberbullying
Stop Bullying and Cyberbullying Course for teachers
This training will help you gain awareness of bullying, its detection, its prevention, tools and methods to fight against it
#StopbullyingInSchools #StopCyberbullyingInSchools
Stop Bullying and Cyberbullying Course description
Bullying is any form of psychological, verbal or physical abuse produced between students repeatedly over a period of time, determined both in the classroom and through social networks (the latter with the specific name of cyberbullying).
The protagonists of bullying cases are usually boys and girls in the process of entering adolescence. About 10% of adolescents confess that they have suffered or suffer bullying behaviour at some time, and this phenomenon has already caused many damages among adolescents, even reaching suicide in some cases. The alarming increase of bullying incidents in Europe calls for a common European strategy. Now, violence and bullying in schools is one of the strategic priorities of The Council of Europe Strategy on the Rights of the Child. However, the fight against bullying is a long journey in which the awareness of this phenomenon is the first step. It is estimated that simultaneous intervention on individual, family and socio-cultural levels is the only possible way to prevent bullying: the school and the teachers can do a lot on those levels.
Here, in this course, you will gain awareness about those levels and you will learn the concept of bullying, its detection, its prevention, tools and methods to fight against it, good examples in Europe, dissemination, policies, and much more…
Objectives of Stop Bullying and Cyberbullying Course for teachers
Defining the concept of bullying
Learning how to detect bullying cases in school
Preventing bullying in school environment
Acting properly to end it, if it is happening
Giving guidelines and tools for teachers to end bullying gradually
Acknowledging cyberbullying, its measures and our legal responsibilities
Increasing social consciousness out of the school
Learning about alternative methods used in Europe to fight against bullying
Detecting local, national and international policies
Analysing a real case study in your classroom
Acknowledging current good practices and developments in Europe
Exchanging experiences and cross-cultural practices
Sharing ideas and materials between colleagues
Improving language and communication skills
Increasing international cooperation and intercultural awareness
Schedule for the Stop Bullying and Cyberbullying Course
DAY 1
09:00-10:00   Meeting – Getting to know each other
10:00-11:00   Introduction to the curriculum
11:30-13:30   The concept and types of bullying
14:00-15:00   Statistics and a brief overview of the current situation in Europe
DAY 2
09:00-10:00   Strategies, tools and good practices to apply in classroom
10:00-11:00   Ideas for social consciousness out of school
11:30-13:30   How to control external variables
14:00-15:00   Strategies, techniques and tools to detect
DAY 3
09:00-10:00   Strategies and tools to apply in the classroom
10:00-11:00   Strategies and tools to apply out of the classroom
11:30-13:30   The concept of cyberbullying
14:00-15:00   How to take measures & legal responsibilities
DAY 4
09:00-10:00   Possible bullying cases
10:00-11:00   Analysis of a real case about bullying in school
11:30-13:30   Design of your own action plan
14:00-15:00   Presentation of activities and feedback
DAY 5
09:00-10:00   Best practices in Europe
10:00-11:00   Institutional, local or regional policies
11:30-13:30   Course overview and evaluation
14:00-15:00   Europass Mobility and Participation Certificates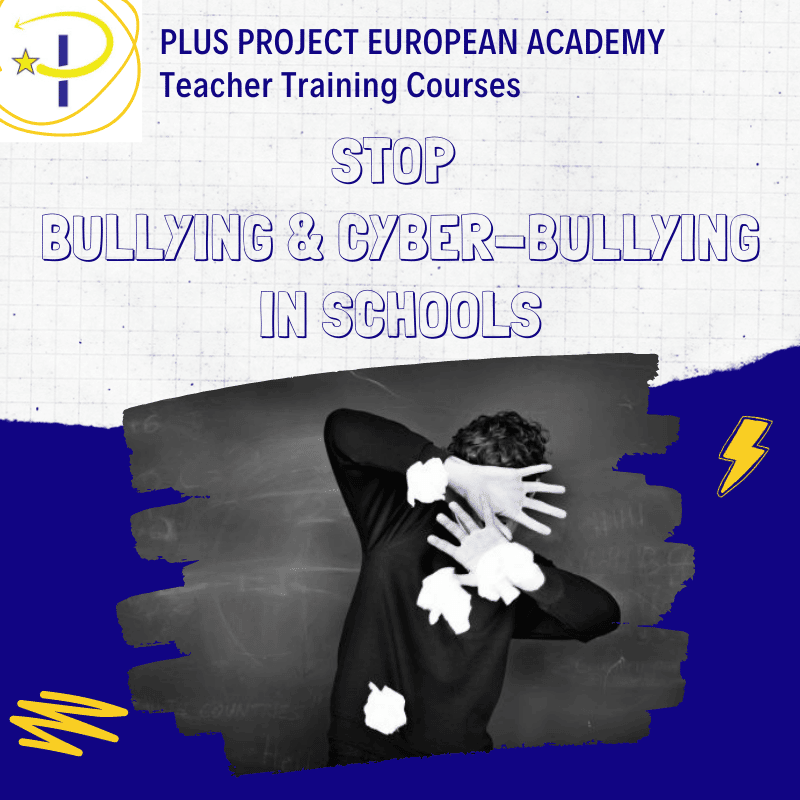 * Please contact us for 7, 10, 14, 21 days courses!
* Materials, certificates and cultural activities included!
*Other course days are available, please ask for specific dates.
* Our teacher training courses can fully be funded by Erasmus+ program. 
* Please contact us for all inclusive options or specific services depending on your needs and preferences.
Responsible PLUS PTOJECT
Porpuse Answer you query.
Legitimation Your consent.
Recipient NAMECHEAP.
Usage Rights  Access, correct and erase data.
Additional Information You can check the detailed information in the Privacy Policy.