Project-based Learning Course
A Dynamic Classroom Approach to Develop Knowledge and Skills Through Engaging Projects
Project-based Learning Course for teachers
In this technologically surrounded environment which young generations are quite into, ICT based learning can significantly contribute to a good quality of education and increases effectiveness of learning.
#Project-basedLearning #PBL #LearningThroughPlaying #TeachingProjectBasedLearning
Project-based Learning Course description
Project-Based Learning (PBL) is a methodology that encourages autonomous learning and collaboration through research and resolution of challenges for students.
PBL is a student-centred teaching and learning method in which the student acquires knowledge, skills and attitudes through real-life situations. Its purpose is to train students of being capable of analysing and facing problems in the same way they are going to do during their professional activity. Students learn to value and integrate the knowledge that will lead them to the acquisition of professional skills.
This PBL course provides the necessary techniques and professional knowledge to apply a current and functional methodology whose immediate results will favour students' motivation and awareness about their own learning by establishing PBL epistemological principles, its relationship with new technologies and key competencies, as well as its work modalities and evaluation processes by analysing the methodological characteristics of PBL and its implementation in the educational field, knowing the strategies, techniques and structural phases of an educational project, and performing the appropriate evaluation of the students involved in the achievement of the educational project.
Educational development must establish appropriate strategies and techniques to provide to teaching processes aimed at achieving specific objectives through teamwork.
For this reason, the Project-Based Learning Course will make you an expert in the application of this type of learning to achieve excellent results and differentiate yourself by integrating an exceptional teaching methodology.
Objectives of Project-based Learning Course for teachers
Understanding Project-Based Learning pedagogy
Acknowledging key aspects of PBL
Adopting interdisciplinary approach in PBL
Learning about the teacher and the student roles in PBL
Controlling external factors in PBL
Integrating new technologies into PBL
Detecting various ICT tools and platforms resources
Learning the main steps to apply PBL
Creating real life problem case
Preparing a PBL activity for your classroom
Learning about assessment in PBL
Learning evaluation techniques in PBL
Detecting current good practices and developments in Europe
Exchanging experiences and cross-cultural practices
Sharing ideas and materials between colleagues
Improving language and communication skills
Increasing international cooperation and intercultural awareness
Schedule for the Project-based Learning Course
DAY 1
09:00-10:00 Meeting – Getting to know each other
10:00-11:00 Introduction to the curriculum
11:30-13:30 Introduction to PBL
14:00-15:00 Key competences in PBL
DAY 2
09:00-10:00 Related learning models and theories
10:00-11:00 5 main elements of PBL
11:30-13:30 Teacher's role and attitude in PBL
14:00-15:00 Motivation in PBL
DAY 3
09:00-10:00 Classroom atmosphere and the context in PBL
10:00-11:00 The integration of new technologies in PBL
11:30-13:30 ICT tools and platforms to be used
14:00-15:00 Aspects to consider before starting a project
DAY 4
09:00-10:00 Brainstorming and topic (problem) selection in PBL
10:00-11:00 Preparing real classroom cases based on PBL
11:30-13:30 Designing your own PBL activity
14:00-15:00 Presentation of activities and feedback
DAY 5
09:00-10:00 Best practices in Europe
10:00-11:00 Assessment and evaluation in PBL
11:30-13:30 Course overview and evaluation
14:00-15:00 Europass Mobility and Participation Certificates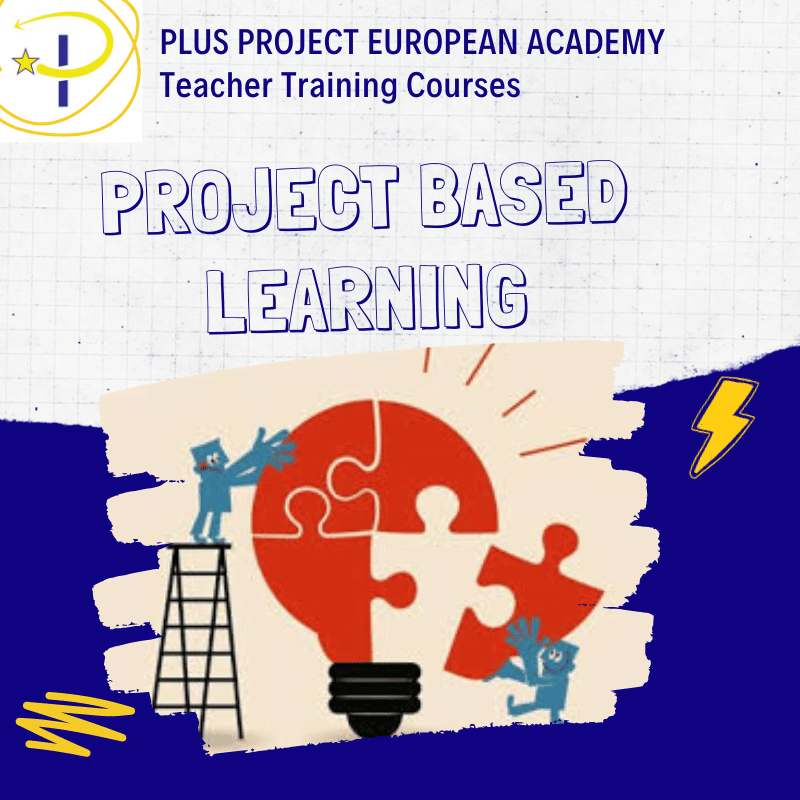 * Please contact us for 7, 10, 14, 21 days courses!
* Materials, certificates and cultural activities included!
*Other course days are available, please ask for specific dates.
* Our teacher training courses can fully be funded by Erasmus+ program. 
* Please contact us for all inclusive options or specific services depending on your needs and preferences.
Responsible PLUS PTOJECT
Porpuse Answer you query.
Legitimation Your consent.
Recipient NAMECHEAP.
Usage Rights  Access, correct and erase data.
Additional Information You can check the detailed information in the Privacy Policy.